Great brands doing great things with Dokobit
Learn how most successful customers are building digital processes with Dokobit.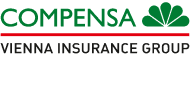 Compensa Life Vienna Insurance Group SE is a part of the Vienna Insurance group SE, one of the leaders in the insurance sector in Austria and Central as well as Eastern Europe. In Lithuania, the company offers life and health insurance services and relies on the principles of reliability, security and experience.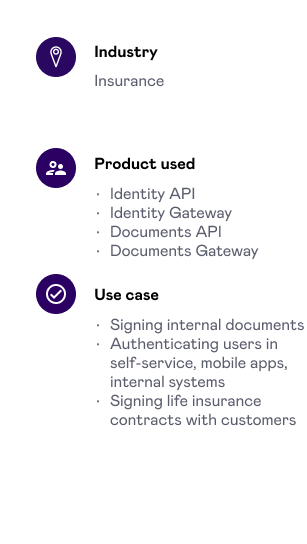 "Previously, we used to sign new contracts only by meeting clients physically. Now, over 60% of new life insurance contracts are signed using e-signatures. This truly saves time and frees our employees from a bunch of paperwork".
Tomas Milašius, Head of the Lithuanian Branch at Compensa Life Vienna Insurance Group SE
Challenge
As the insurance company serves a large number of people daily, there is a need for optimal, time-saving tools that meet everyone's needs and capabilities.
According to Compensa Life, one of their biggest headaches was the mountains of paperwork, as new contracts were signed only physically (meeting in person, printing contract documents). As remote work had accelerated, physical signing became neither a rational nor possible way of proving identity and will of a customer. During the pandemic, solutions for remote authentication and electronic document signing became necessary.
Moreover, the company had used only electronic banking system for user authentication for a long time, yet, this was not suitable in all cases. Therefore, the search for a new tool that is more secure, convenient and unlocks additional solutions has started.
Solution
The implementation of innovative e-solutions was a strategic step for the company. Compensa Life now uses Dokobit for user authentication in their customer self-service portals, mobile apps, internal systems, also for signing life insurance contracts with customers, internal documents in the document management system (employment contracts, service contracts, etc.). Dokobit was chosen because it operates in all the three Baltic countries, it provides both authentication and e-signing options, supports different tools (ID card, Smart-ID, Mobile ID) and e-document formats (PDF, ADoc, ASiC-E). Besides, Dokobit can be fully integrated into own systems using both own and Dokobit user environments.
Result
Authentication with Smart-ID and Mobile ID has expanded the capabilities of the insurance company. Also, a lot of valuable time is being saved – it took longer to create separate integrations for each bank, meanwhile with Dokobit only one integration is enough. For connecting to internal systems, Smart-ID has become a standard tool for both employees and partners.
By reducing the number of paper documents and avoiding complicated archiving, Compensa Life saves both financial resources and time. Today, 95% of life insurance contracts are generated by employees using an e-application system, and over 60% of new life insurance contracts are signed with e-signatures. By combining remote client authentication and signing documents using e-signatures, the company can enjoy fully remote processes – the clients don't have to physically come to the office, and employees can work from anywhere.
---