Great brands doing great things with Dokobit
Learn how our most successful customers are building digital processes with Dokobit.
ESTO, established in 2016, is a financial services company with Estonian roots. Today, the company offers the largest selection of various payment solutions in the Baltics, and its partner network is made up of more than 1200 partners and 100 000 consumers.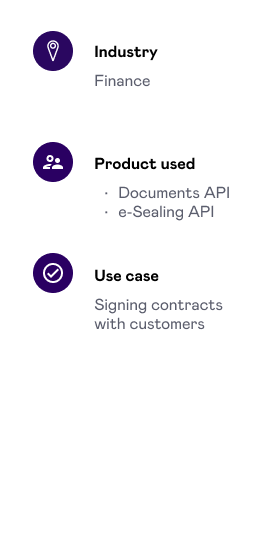 "Choosing Dokobit services has saved us a lot of time that would have otherwise been spent on complex integration and IT maintenance."
Mikk Mihkel Nurges, Head of Product at ESTO Group
Challenge
ESTO's goal is to provide consumers with easy, convenient, and smart payment solutions, helping them shop responsibly.
As the company serves customers all over Estonia, Latvia and Lithuania, large amounts of contracts need to be signed daily. To make the signing process simple and convenient for everyone, ESTO decided to offer its customers the possibility to give e-signatures with Mobile ID and Smart ID.
Because the integration was difficult to build internally, ESTO started to look for an option that could be easily implemented into the company's own information system.
Solution
When searching for possible partners, ESTO realised that there are not many service providers in the market that meet their needs and expectations.
Easy and quick integration was one of the deciding factors for choosing Dokobit as their partner.
Dokobit's API was built in a way that it could be integrated in a short amount of time and used right away.
Result
Nowadays, customer expectations are higher than ever and providing fast, user-friendly and secure solutions is essential to a company's success. Integrating e-signing functionality into ESTO's information system has allowed their customers to sign loan contracts (credit line, hire purchase agreements etc.) in just a few simple clicks on the company's own platform.
Additionally, choosing Dokobit's services has saved ESTO a lot of time that would have otherwise been spent on complex integration and IT maintenance.