Great brands doing great things with Dokobit
Learn how our most successful customers are building digital processes with Dokobit.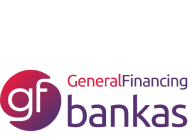 In the 2020s, GENERAL FINANCING BANK (formerly General Financing, a consumer loan start-up) became a specialised bank. The bank currently has 14 customer service departments operating in ten Lithuanian cities. Current and future customers of the bank can use not only the financial services provided by the bank, such as consumer loans, loans for housing repairs, auto leasing, medical leasing, and refinancing services, but also the opportunity to save their accumulated funds by choosing a time deposit or savings account.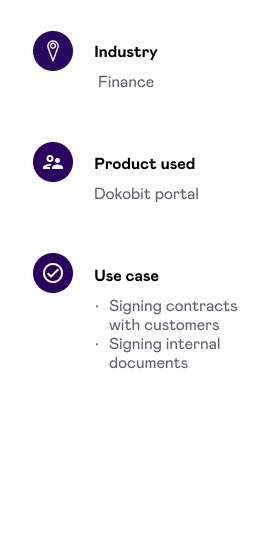 "Although the bank's employees were sceptical at first, many questions arose, but once we tried the portal and saw how quickly and conveniently everything happens – all doubts turned into great satisfaction and a desire to use Dokobit. The employees began to call for automating document signing by e-signatures."
Laura Purė, Senior Product Manager
Challenge
With the market's growing need for digital banking services, it's only inevitable that there will be greater demand for complex electronic signature infrastructure services. For some time, the bank has been monitoring a growing trend of signing documents electronically – more and more GENERAL FINANCIAL BANK customers use qualified e-signatures and prefer to sign documents remotely.
The costs and the longer time required to sign papers using other signature methods encouraged a market search for solutions that may make document signing processes more efficient while also meeting all security standards and requirements set forth by European Union regulations.
Like many businesses, the pandemic posed numerous challenges, requiring quick and effective solutions to maintain operations. Although GENERAL FINANCING BANK had been considering electronic signature solutions before, the pandemic expedited this choice.
Solution
Now GENERAL FINANCING BANK uses Dokobit for signing consumer loans, fixed-term deposit agreements, savings account agreements, and other contracts with clients. Additionally, it is used for the remote signing of collaboration agreements with partners and suppliers, as well as for signing internal bank documents.
Compared to other providers offering electronic signature and qualified electronic signature validation services, Dokobit stood out with its wide range of eID solutions for clients. It was important for the bank that using the system would be straightforward and secure for both customers and employees, with clear communication. GENERAL FINANCING BANK emphasises speed, efficiency, and customer satisfaction as critical advantages.
Dokobit e-signing solutions also prompted faster document signing times, ensured data security, reduced costs, and accommodated changing customer habits during the pandemic.
Result
By offering remote document signing to its clients, GENERAL FINANCING BANK emphasises saving their and their customers' time. Customers do not need to go anywhere; having one of the qualified e-signing solutions is enough.
With Dokobit, approximately 60% of all contracts between GENERAL FINANCING BANK and its clients are already signed. The bank continues to monitor the growing trend of customer demand for remote contract creation and signing.
GENERAL FINANCING BANK states that digital solutions will become an even more integral part of the bank's operations and customers' lives. The bank will continue to pursue the path of digitisation and innovation, offering its clients convenient, secure, and time-saving solutions.