Great brands doing great things with Dokobit
Learn how most successful customers are building digital processes with Dokobit.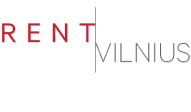 Rent Vilnius is a relatively small company providing buy-to-rent and rental property management services. It takes over from property owners all the work related to rental and property maintenance: finds the most suitable apartment for investment, selects tenants, takes care of property repairs and maintenance, solves problems that tenants face, collects rent and charges, etc.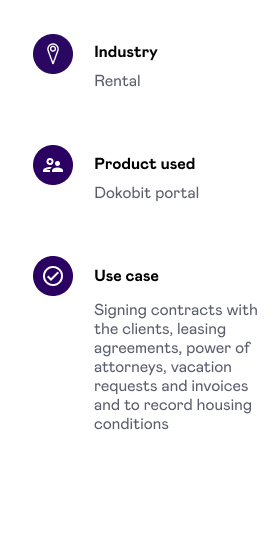 "Switching to an e-signature and Dokobit portal allowed us to rent properties faster as contracts with the clients can be signed the same or the next day. This way in half a year we've earned around 20,000 euros for our clients."
Jurgis Vilutis, Partner at Rent Vilnius
Challenge
A business dealing with housing management and administration faces a lot of paperwork – the number of documents per month may range from a few dozen to several hundred.
More challenges arise when property owners who buy administrative service live outside of Lithuania. The whole process becomes even more complicated – all the documents are handled remotely or only when the owner returns to Lithuania. Naturally, processes get protracted or, in some cases, property owners even decide to terminate the service and leave property unrented, thus losing additional income.
Rent Vilnius was looking for a solution, which would reduce the property owner's participation in rental process to the minimum and simplify the process itself. That's when they found Dokobit.
Solution
Today Rent Vilnius uses Dokobit portal for signing contracts with the clients, signing leasing agreements, recording housing conditions, signing power of attorneys, vacation requests and invoices. For a small company all of that comprises around 44 documents per month.
Result
The company had started using e-document signing platform without even knowing the real return of investment. Within half a year, it was clear that their decision was more than right. After all the processes have been moved to Dokobit, everything has changed: the company saves time and costs for printing and mailing. Also the process of handling specific documents got much simpler – they can be confirmed and signed in one platform by adding digital photos to one document, uploading it to the portal and signing. As for the numbers, monthly savings amount to at least 137 euros, meanwhile, within 5 years this number increases to more than 8,000 euros. For SMEs this is a lot of money, especially considering that it's spent on document signing.
E-signature and Dokobit have also helped the company to reach emigrated Lithuanians and property owners living outside of Vilnius. As new audiences emerged, sales grew by 20% in just six months.
The solution helped Rent Vilnius to get rid loads of paperwork and simplify the internal processes – documents not only can be signed faster but also can be conveniently stored, all in one place.
---