Great brands doing great things with Dokobit
Learn how our most successful customers are building digital processes with Dokobit.

SB lizingas is the first company that started providing consumer leasing services in 1997. In more than 20 years, SB lizingas services have been used by almost 1 million customers. The company follows the principle that all financial services must be clear and easy to use.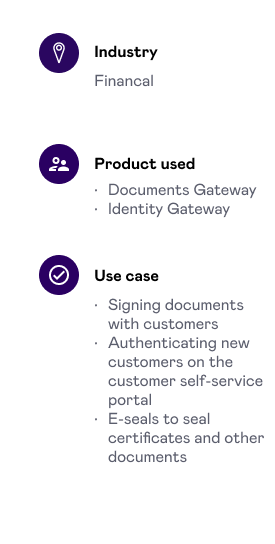 "We have a quite decent amount of shelves where we store our paper documents. Yet we measure the length of them not in square meters, but kilometres. What encourages the reduction of manual workloads for employees and the further digitisation of processes most, is the conversion of such shelves to terabytes in a data centre."
Edvardas Kučinskas, Head of the IT Department at SB lizingas
Challenge
As the demand for leasing services and their diversity in the market is growing, so is the desire to improve the speed and quality of customer service. When providing services only online through intermediaries, all processes must be clearly understood by all kinds of customers. Even the ones that have very little technological knowledge.
One of the biggest challenges nowadays is the legal need to identify each new customer. That requires offering only the most secure and convenient solutions in the service package. No less of a headache is the excess paper documents and the need to store them. Generating a thousand documents every day and archiving them on more than kilometer-long shelves is wasting too many resources.
As the leasing market is highly competitive, there's no doubt that all service components must work flawlessly, without even a possibility of an error. For many years, SB lizingas has been looking for a solution that offers impeccable user experience, a wide range of integration options, and zero complaints practice. As a result, Dokobit crossed their path.
Solution
SB lizingas now uses integrable Dokobit solutions: Documents Gateway for signing documents with customers and Identity Gateway for authenticating new customers on the customer self-service portal, e-seals for sealing certificates as well as other documents. In fact, SB lizingas generates a large number of documents (more than a thousand per day), so the impact of digitisation is strongly felt here.
Result
When SB lizingas started using Dokobit, kilometers of document shelves converted into terabytes in the data center. Due to the workload reduction of the team and no longer sending documents by mail or courier, work became rather efficient.
Clients are able to identify and authenticate themselves – they can easily fill in applications, self-evaluate circumstances and obtain credit. That saves a great deal of human resources. Due to the security and simplicity of the Dokobit provided services, the leasing company gained greater trust.
By complete automation of tasks and transfer of processes to the online area, SB lizingas has reduced manual work which saved time in operations and customer service. Eliminating the need to physically sign consumer credit documents saves a lot of time and financial resources, which results in gaining more trust from potential and current customers.
---