Simpler, faster, better together
Signing legally binding documents has never been so easy and secure. With Dokobit Office 365 add-in you can electronically sign documents right on Microsoft Word.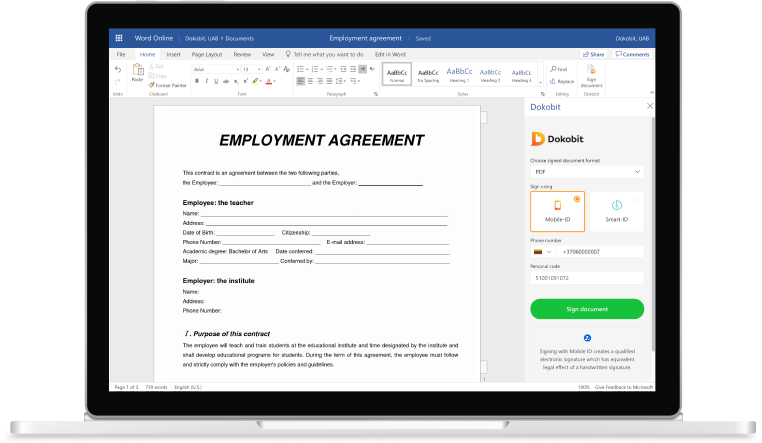 Efficient
Reduce operational costs such as printing and mailing, and increase business process efficiency by faster document signing.
Convenient
Sign documents from anywhere and any device. All you need is an internet connection and a smart device to manage your documents on the go.
Wide variety of eIDs
Sign documents with Lithuanian, Estonian and Icelandic Mobile ID or Smart-ID available in the Baltics. You won't ever again need to search for that always-hard-to-find pen.
Available document formats
Don't worry about your document format — sign directly in Microsoft Word and download your signed document converted to PDF or ASiC-E container.
Compliance with the highest standards
Dokobit meets the strict requirements under eIDAS regulation, enabling e-signatures to be equal to the handwritten ones and accepted in all the EU member states. Moreover, Dokobit uses the industry best practices and standards to keep your information safe.
Learn more about our compliance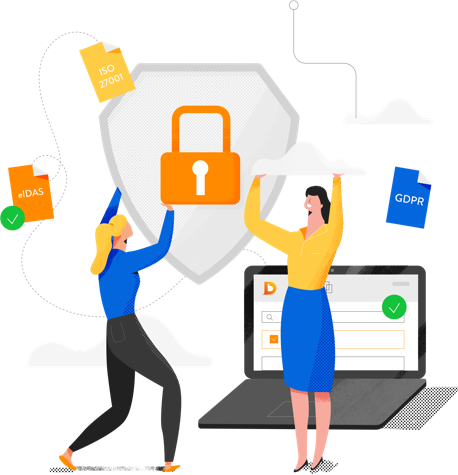 Dokobit Microsoft Word add-in beta
Use your chance to try out signing documents right on Microsoft Word for free. In the meantime, we are working hard on additional functionalities.
Get it now