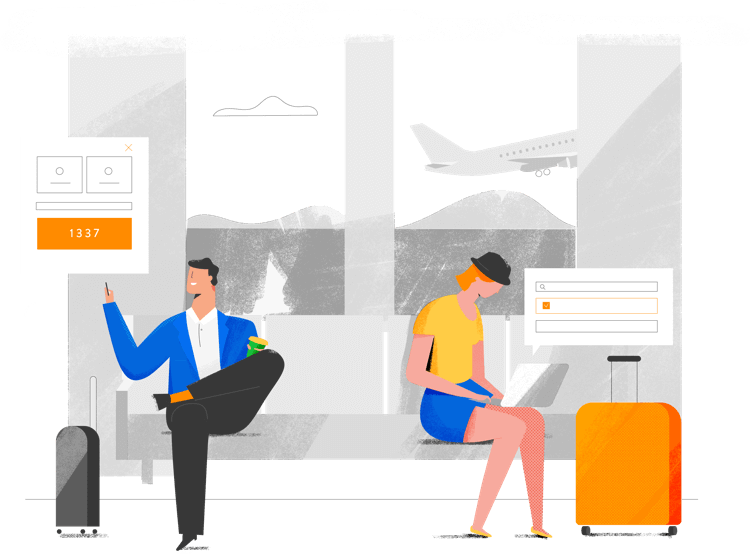 It allows to work smarter, not harder
Dokobit introduces you to a smarter and more convenient way to get stuff done faster.
e-Signing is just a small part of what you can do with it.
Built as an everyday service
Variety of signing solutions
Sign documents with your preferred eID solution, whether it's a national ID card, Mobile ID or other. See all supported eIDs.
Document management tools
Manage your documents with ease — categorise, filter, share, and track. Everything's in one place.
Different signature levels
Sign documents with Advanced and Qualified Electronic Signatures accepted across the entire EU.

Electronic document signing saves your day
Don't worry about having to change your plans at the last minute — we'll help you make sure to sign documents and get signatures collected on time, wherever you are.
Deadlines and reminders
Set deadlines and additional reminders to make sure other parties sign on time.
Automatic notifications
Get informed when your signature is needed or when other parties have signed the document.
Audit trail
See all actions performed by the users through a detailed list of events.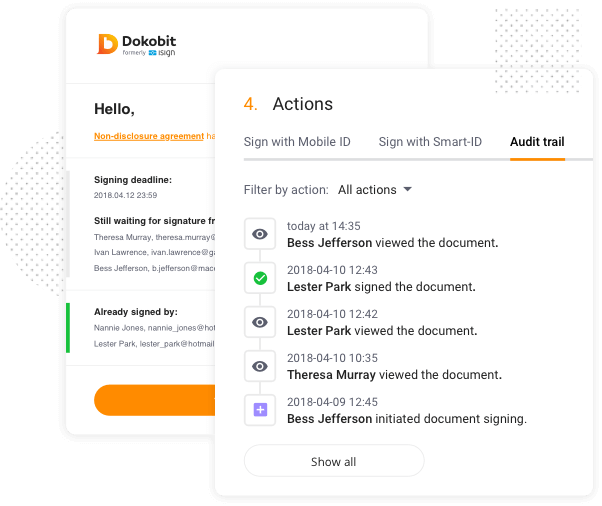 Document management gives you power of order
You'll never again have to put up with your desk covered in papers. We have all the necessary tools for you to easily manage your documents online.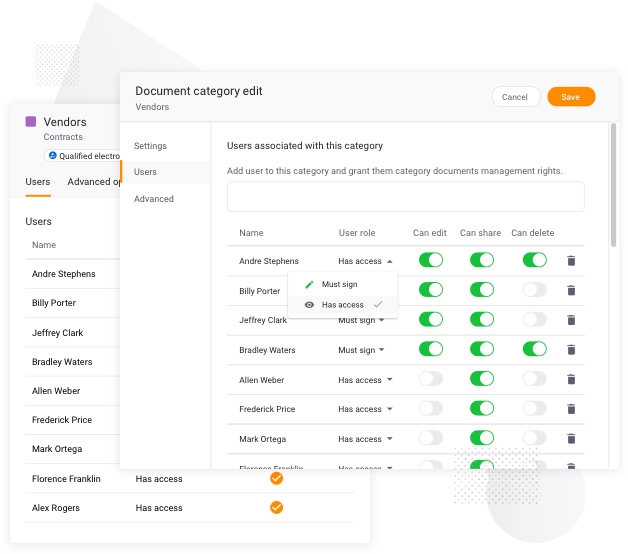 Document categories
Sort documents into categories for a more convenient and orderly experience.
Permissions based on categories
Manage user rights to edit, share or delete documents assigned to categories.
User roles
Apply different roles for users: they have to sign a document or can only view it.
Valid e-signatures ease your headache
You don't have to worry about the legal stuff — we ensure that your electronic signatures are legally binding and accepted across the entire EU.
Equal to handwritten signatures
Dokobit supported Qualified Electronic Signatures are equal to handwritten signatures.
Qualified timestamps
Qualified timestamps in all document signings ensure security against forgery and backdating.
Signature validation
Check whether signatures from other parties are valid and legally binding.

Everything else you need to work smarter
Variety of document formats
Sign documents in whatever format you need — from PDF and ASiC-E container to the formats used in the Baltics (BDoc, EDoc and ADoc).
Address book and contact categories
Save contacts to an address book to easily find them next time you need to share a document.
Long-term signatures validity
Don't worry about qualified e-signatures or qualified e-seals losing their trustworthiness through time. We'll take care of it.
Multilingual interface
Use Dokobit in English, Estonian, Icelandic, Latvian or Lithuanian.
Search and filter
Filter documents by categories and search to quickly find what you are looking for.
Comments
Discuss important topics and leave notes for other singing parties.
Batch actions
Sign, delete or download all selected documents with just one click from a single location.
Secure sharing
Only intended persons who authenticate with an eID matching that person can access documents.
Signing in O365
With Dokobit O365 add-in sign documents where you prepare them — right on Microsoft Office programs.
For teams
Looking for additional administrative tools to drive the digital transformation in your team? We've got you covered.
Data governance
Easily manage accounts of your team members and document access rights using centralised controls to make sure sensitive documents stay in the right hands.
Centralised billing
Reduce time spent on paying separate invoices. You can give each team member their own Dokobit account, and pay for everything with a single invoice.
Separate accounts
Use different accounts for company and private purposes in order to separate document ownership, intended usage and costs.